CALL US TODAY!
1.573.302.7211
TOP-RATED MISSOURI SLIP & FALL ATTORNEYS

Property owners have a responsibility to ensure their premises are free from hazards and defects that could
cause harm to others. Whether you are an employee, customer or bystander and have been injured due to the
negligence of a property owner, it is important to contact an experienced premises liability lawyer. Our team of
attorneys at the McDuffey & Medcalf Law Firm, LLC have handled numerous dangerous premise cases to
successful conclusion. We are committed to protecting your rights and will do what it takes to get you the
compensation you deserve.
Premise liability typically refers to accidents or injuries that occur due to unsafe conditions on another person's
property. Accidents or injuries resulting from dangerous premise conditions can take many forms, including
the following:
Slip, trip and falls

Swimming pool accidents

Playground accidents

Daycare accidents

Construction site accidents

Security problems

Faulty store displays

Elevator accidents

Snow and ice injuries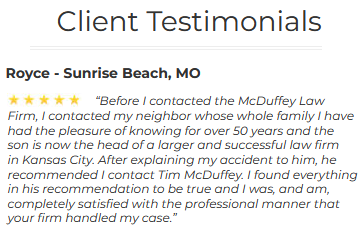 Although the property owner has a legal duty to exercise reasonable care to maintain safe premises, other persons, such as a manager, contractor or
tenant may also be responsible for the property's condition. In many cases, multiple parties are liable for an injury.
Premise liability cases require thorough investigation and understanding of the law. At the McDuffey & Medcalf Law Firm, LLC, we have extensive
experience in handling dangerous premise cases.